Implementing the Triglav Group's strategic ambitions in sustainable development (ESG).
In the context of its insurance business, the Group develops sustainability-oriented products and services and increases the premium written from products promoting general social and environmental benefits, including energy efficiency and low-carbon technology.
The share of green, social impact and sustainable bonds rose to 10%.
The Group's Triglav Zeleni equity fund complies with Article 8 of EU regulation on sustainability-related disclosures in the financial services sector.
Employee satisfaction was maintained at a high level, and client satisfaction was further improved.
The Scope 1 and Scope 2 carbon footprint decreased by 13%. A total of 63% of electricity for the Group was obtained from renewable energy sources.
Preventive health activities were strengthened. For the effective prevention and management of work-related musculoskeletal disorders, Zavarovalnica Triglav was awarded an EU-OSHA Healthy Workplaces Good Practice Award.
Commitment to respect human rights in business operations was incorporated into business processes. Due diligence of respect for human rights is carried out on a regular basis as part of risk assessment.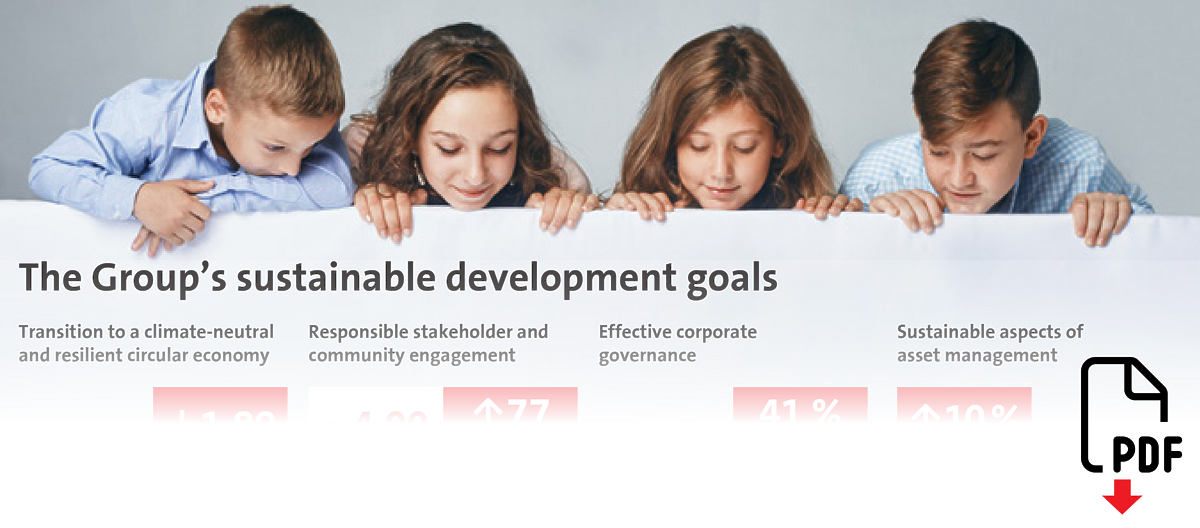 The ambitions regarding the ESG goals for 2025 are achieved in four key areas
Insurance and asset management

In the Triglav Group's investment portfolio, the share of green, sustainable and social impact bonds was further increased. In early 2022, by joining the Partnership for Carbon Accounting Financials (PCAF), the Group committed to publish the carbon footprint of at least one asset class over a three-year period. The Triglav Zeleni sustainability equity fund, which complies with Article 8 of EU regulation on sustainability-related disclosures in the financial services sector, has been available to clients for several years.
In the insurance segment, products are designed that promote social and environmental benefits, such as solar power plant insurance, micromobility insurance, electric and hybrid vehicle insurance, agricultural insurance with an emphasis on local production and improving crop protection against drought. With the aim of ensuring that the Group's range of insurance products complies with Regulation (EU) 2017/2358, an internal methodology was developed to assess their sustainability. To better manage sustainability risks at Group level, monitoring of the insurance portfolio of legal entities according to the European classification of economic activities (NACE) was set up.

Own business processes

The Group's Scope 1 and Scope 2 carbon footprint decreased by 13% in 2022. In light of the energy crisis and care for the environment, efforts were made to raise employees' awareness about energy conservation and the importance of sustainable practices. As part of our carbon footprint calculation and the promotion of sustainable mobility, a survey was conducted among employees about how they commute to work. In 2022, first investments were made in solar panels to provide for partial energy self-sufficiency. The share of electric and hybrid vehicles in the fleet was increased. The Group companies took many additional measures related to digitalisation and paperless operations, enabling the Group to reduce overall paper consumption. The total quantity of waste generated at Group level fell by 6%.

Responsible stakeholder engagement

Employee and client satisfaction remained high in 2022. The concept of flexible working is being implemented with the aim of improving employees' work-life balance and expanding programmes promoting health and well-being, while providing for multidimensional diversity and the development and training of employees. The Group will continue to participate in social responsibility and environmental projects, enter into partnerships and give donations. In early 2022, together with partners from the fields of sports, culture, healthcare, prevention and the economy, the Insure Our Future project was launched, dedicated to raising awareness about the 17 United Nations Sustainable Development Goals (SDGs). Sustainability aspects began to be incorporated into the execution of some events (Triglav Run, Our Day). An important part of employee training takes place in digital format.

Effective corporate governance


The Triglav Group achieves high corporate governance standards, while improving the public disclosures of its sustainable business and operations. In 2022, Triglav Funds adopted the Sustainable Business Policy and defined the Key Indicators of Sustainable Business. To make sure that its efforts in sustainable development are visible and communicated properly, it is a signatory to selected international initiatives (UN PSI, UNEP FI and PCAF, disclosures are made in accordance with the GRI and SASB sustainability standards). The Group disclosed through CDP's climate change questionnaire for the second year in a row.
At Group level, sustainability-related activities are coordinated and directed by the Sustainable Development Coordinator, monitored by the Compliance and Sustainable Development Committee and decided on by the parent company's Management Board.
Sustainable development milestones of Zavarovalnica Triglav and the Triglav Group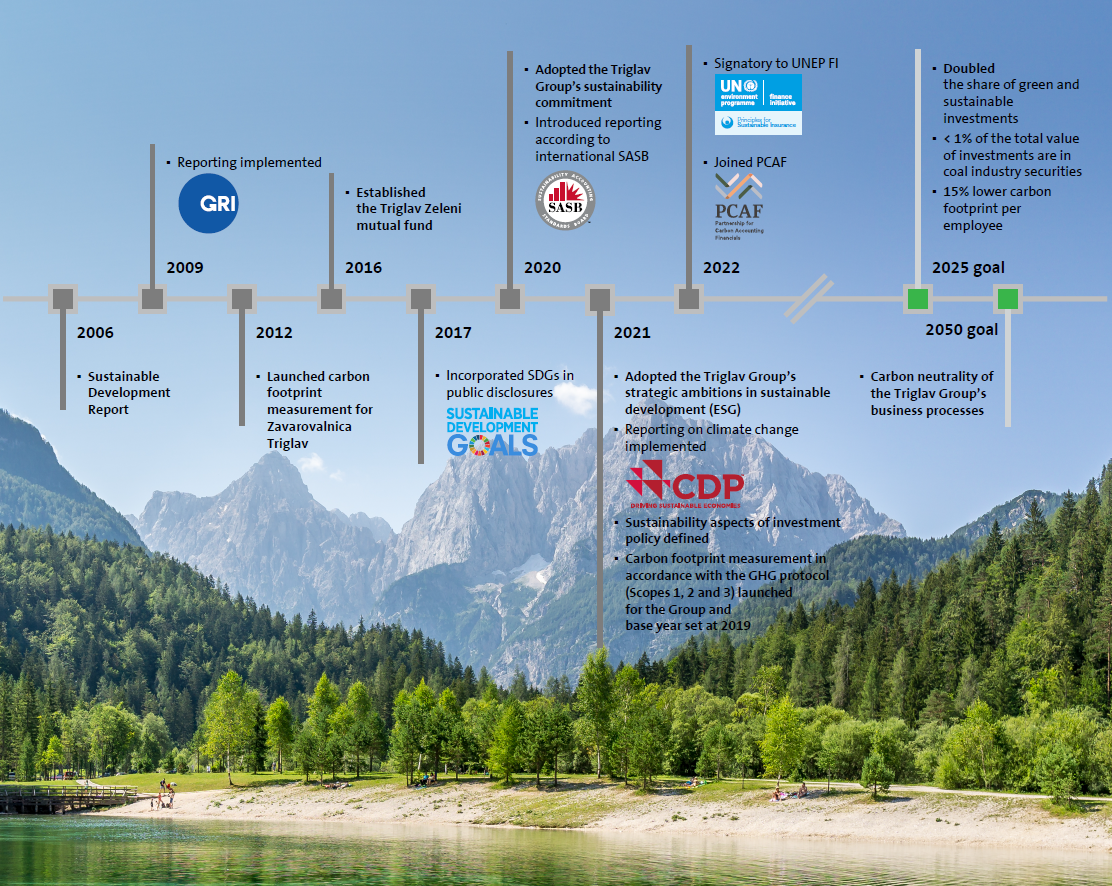 Materiality matrix of ESG topics for stakeholders and the Triglav Group
In 2022, which was marked by major changes in the business environment, the materiality assessment was reviewed and updated based on a quantitative survey conducted among more than 600 clients and other respondents from Slovenia, a study of regulatory trends in the EU and information obtained from domestic and foreign investors.