The ZVTG share achieved a 4.5% total return and a 10.7% dividend yield at the 41% annual growth of the trading volume.
The Triglav Group was assigned an "A" credit rating with a stable medium-term outlook for the seventh time in a row.
There were no significant changes in the shareholder structure of Zavarovalnica Triglav.
In investor relations, increased attention was paid to natural persons, whose trading in ZVTG shares and stake have strengthened in recent years.
With the market capitalisation of EUR 784.4 million (index 94), Zavarovalnica Triglav was the fourth largest Slovenian listed company in 2022, and its share was the fourth most liquid share on the Ljubljana Stock Exchange. The ZVTG share generated the annual stock market turnover of EUR 28.3 million, up by 41% compared to the year before, while the total turnover on the Ljubljana Stock Exchange rose by 13%.
Key figures relating to the Zavarovalnica Triglav share
Items

31 December 2022

31 December 2021

31 December 2020

Maximum closing price

41.40

37.20

36.00

Minimum closing price

31.40

29.80

23.20

Closing price

34.50

36.80

30.00

Book value per share (parent company)

24.28

29.70

28.33

Book value per share (consolidated data)

32.96

40.93

38.16

Net earnings per share (consolidated data)

4.85

4.97

3.24

Market capitalisation

784,362,606

836,653,446

682,054,440

Average daily trading volume (excluding block trades)

113,291

80,554

131,945

Payed dividend per share

3.70

1.70

0.00

No. of shares

22,735,148

22,735,148

22,735,148

The percentage of floating stock

30.73%

30.73%

30.73%

Traded on

Ljubljana Stock Exchange - LJSE

ISIN code

SI0021111651

Ticker symbol

ZVTG

Bloomberg

ZVTG SV

Reuters

ZVTG.LJ

Credit rating (S&P Global Ratings, AM Best)

»A«, stable medium term outlook

»A«, stable medium term outlook

»A«, stable medium term outlook
Movement in the ZVTG share price in 2022 compared to the Ljubljana Stock Exchange SBITOP index and the sectoral index of European insurance companies STOXX Europe 600 Insurance (the baseline date: 31 December 2021 = 100)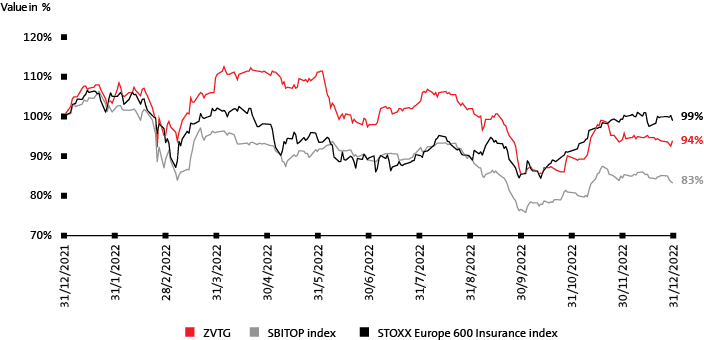 Gross dividend per share by year (EUR) and its share of consolidated net profit for the preceding year for the dividend payment in 2013–2022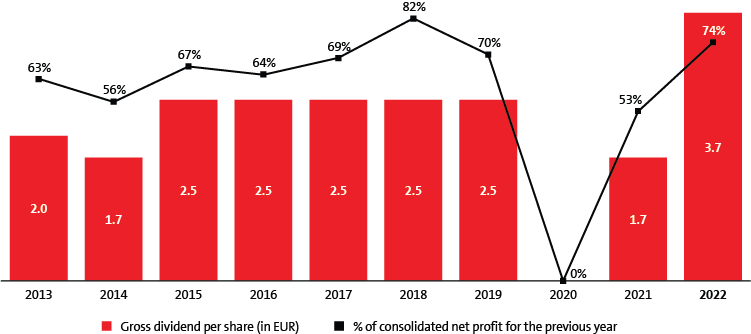 Information for shareholders
Zavarovalnica Triglav d.d., Ljubljana
Miklošičeva cesta 19, 1000 Ljubljana
Ms Helena Ulaga Kitek, Head of Investor Relations
Telephone: +386 1 47 47 331
Email: investor.relations@triglav.si