Strategic risks and business opportunities are regularly assessed based on the challenges and opportunities identified in the business and social environments, which are characterised by rapid changes.
The Triglav Group's vision, aimed at creating an outstanding user experience, is implemented through development activities. The transition from an insurance-oriented to a service-oriented business model with multiple ecosystems and continued digital transformation are at the fore.
The Group's performance in 2022 was sound and impacted by one-off events, with the business result exceeding plans.
The Group's operations will continue to be profitable, further increasing the business volume in 2023.
In the revised Triglav Group Strategy to 2025, adopted at the end of 2021, the Group continues to pursue its existing key strategic guidelines, upgrading them in terms of growth and development activities and an improved client-centric approach.
The strategy focuses on the Group's sustainable development ambitions (environmental, social and governance factors) even more than in the past. By pursuing these ambitions, a long-term stable basis is created for the Group's profitable and safe operations, promoting the transition to a sustainable society, reducing its impact on climate change, remaining a development-oriented environment for its employees, maintaining ties with its partners and representing a stable, safe and profitable investment for investors.
Mission, vision and values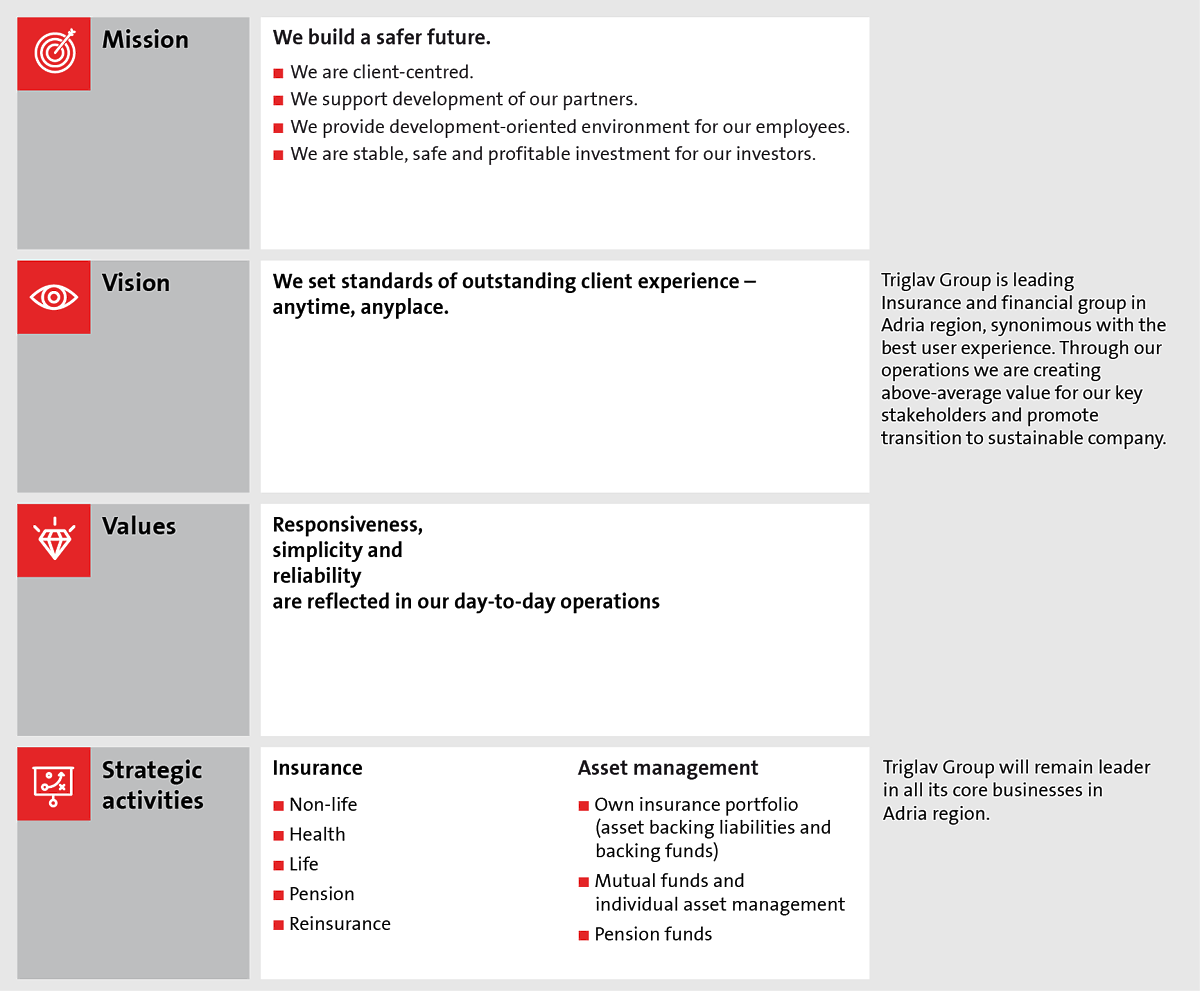 Strategic guidelines
Operating safely and profitably

The Triglav Group is an independent insurance and financial group with high credit ratings, holding a dominant market position in the Adria region. Its strategic guidelines are aimed at achieving a high profit and profitable growth.

An outstanding client experience

Creating a unique client experience across all channels, processes and products
A client-tailored range of insurance and financial products and services
Focusing on assistance and related services aimed at developing interrelated ecosystems

Digital transformation

The Triglav Group continues with its digital transformation process with the aim of becoming the leading digitalised insurance and financial group in the Adria region. By developing digital services, automating processes and implementing advanced digital technologies, it will ensure the best digital user experience to its clients.

The development of service-oriented business models

The Triglav Group is gradually transitioning from an insurance-oriented business model to a mostly service-oriented business model and ecosystem, which address many interrelated client needs in terms of insurance products and assistance and related services.

Development of organisational culture
The Triglav Group continues to create a highly effective and service-oriented organisational culture, which supports strategic business guidelines, and an organisational environment, which enables the Group to attract, develop and retain competent, engaged, healthy and satisfied employees.
The Triglav Group's strategic indicators in 2022–2025
In terms of financial strategic indicators, the goal is for the Group's total revenue to exceed EUR 1.6 billion in 2025, while achieving a 10% return on equity in this strategy period (the figures are determined using the existing IFRS 4 reporting framework).
Implementation of the Triglav Group's business plans in 2022
In the difficult economic situation, the Triglav Group achieved a profit before tax of EUR 134.5 million, up by 1% relative to 2021 and more than planned.
Total written premium grew by 9% to EUR 1,479.6 million, exceeding the planned figures. Premium growth was recorded in all insurance markets of the Group and in all insurance segments despite the challenging situation marked by fierce competition. In the Slovenian market, premium grew by 7%, in other markets in the Adria region by 12% and in the international market by 17%.
The Group's combined ratio reached a favourable 88.1%, which is in the lower end of its average target strategic value range (the company's performance indicator in the core non-life and health insurance business excluding return on investment). Compared to the previous year, it decreased by 0.8 percentage point as a result of the improved claims ratio.
The credit rating agencies S&P Global Ratings and AM Best re-affirmed the Group's "A" credit rating with a stable medium-term outlook, thereby confirming the Group's strong financial stability, capital adequacy and profitability.
Triglav Group Business Plan for 2023
A profit before tax of EUR 95–110 million is planned for 2023. The planned profit is lower than the profit for 2022, which was affected by one-off events. In the insurance business, the Group plans to operate profitably and record a total written premium of EUR 1.5–1.6 billion, as well as achieve a combined ratio of below 94% in non-life and health insurance.