The number of client interaction points and the range of assistance service providers increased in all markets. Cooperation with partners was upgraded, and they were included in the Company's platform solutions.
Business ecosystems were upgraded with new services and harmonised with the revised Triglav komplet loyalty programme.
Assistance, sales and claims procedures, as well as communication processes, continued to be digitalised and automated in order to fully meet client needs the moment they arise.
Among the numerous innovations implemented, digital sales and marketing stand out; the digital platform for easy-to-use electronic client service was upgraded in accordance with the latest guidelines and the TRIA virtual assistant was launched.
Product development and pricing policies were adapted to personalised solutions and macroeconomic trends.
The Company entered into partnerships in third countries, and international brokerage companies are increasingly recognising the quality and flexibility of the Company's services.
The Company's internal organisation was redesigned to facilitate the achievement of its strategic objectives and ambitions.
A pilot project for setting up a hybrid workspace was launched.
The IT infrastructure continued to be centralised with the aim of including 11 Group companies in the Group's hybrid cloud by 2025.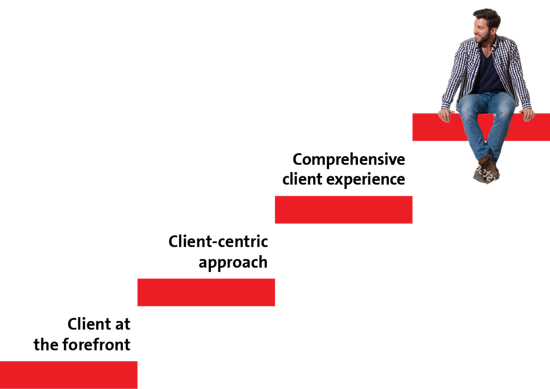 At the forefront of the Group's development activities, which are carried out by respective divisions and departments at the parent company, was the implementation of strategic guidelines with a particular emphasis on achieving an outstanding client experience, digital transformation and the development of service-oriented business ecosystems. The goals set were fully achieved. Furthermore, sustainability aspects and regulatory changes were incorporated into the development of products and services.
Focused on client needs and setting the standard for an outstanding user experience, the Company aimed for responsiveness, simplicity and reliability of its services, products and processes. The transfer of products and good practices within the Group continued, achieving synergistic effects backed by a unified market presence.
Business ecosystems
The main building blocks of all our ecosystems are assistance services expanded by related services, based on high-quality partnerships and supported by advanced information and digital solutions. Ecosystems are built in the fields of health, well-being, mobility, living and financial services, integrating them with the revised Triglav komplet loyalty programme.