In a world full of challenges, we offer new, flexible solutions. We are connecting with our clients through an increasing number of contact points and innovative approaches. We are enriching their experience. We are developing entrepreneurial innovation, digitalising internal processes, and building partnerships and service ecosystems. We take care of the health and safety of our employees in a comprehensive manner and actively promote talent.
In the context of the Young Hopes project, we reward young talented individuals who are dedicated to their work, offering them tangible support and help in developing their knowledge, ambitions and talent.
The Triglav Group and Zavarovalnica Triglav d.d. Annual Report 2022 is dedicated to all who pave new paths and want to push boundaries. Meet a future scientist and Young Hope of 2022, plus our fantastic colleagues.
An unstoppable desire to push boundaries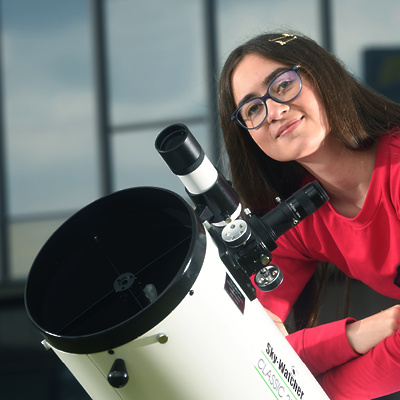 The multi-talented student Marija Judež knows what she wants and steadfastly pursues her goals. The young winner of international Olympiads in experimental science, astronomy and astrophysics is determined to become a scientist. She wants to devote her exceptional talent to astronomy and physics. She is unstoppable in her desire to learn more about the expansion of the universe and galaxies, but also in paving the way for other young women and female scientists and anyone who wants to push boundaries.
Marija Judež won a silver medal at the 2021 European Olympiad of Experimental Science. She was the only young woman in the last three years to take part.
In 2022, the Young Hopes project was carried out for the 10th time in a row by the Everything Will Be Alright Institute and Zavarovalnica Triglav with the aim of supporting a new generation of innovative young people, who are establishing themselves in sports, parasports, science and art.
Seeing through the eyes of clients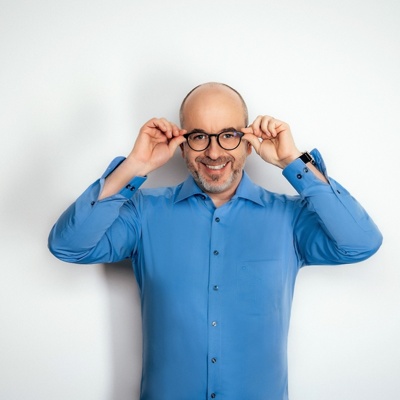 We aim to develop an offer tailored to the needs and expectations of our clients. We were among the first in the region to launch the Report & Repair service. This service means that clients no longer have to deal with the time-consuming and often demanding process of repairing the damage to their property.
Franc Branko Florjančič, Director of Assistance Claims Department, points out that Triglav's focus continues to be on its comprehensive repair service. It brought about a shift in the range of services provided and their organisation, in which they fully cater to the needs of clients. "We expanded our cooperation with assistance service providers and developed partnerships in the Company's business ecosystem based on a common approach. Client feedback and exceptional reviews of their experience serve as an excellent basis for the expansion of personalised repair services and the further development of the platform."
A simple solution, a richer experience, a better relationship
In the event of damage to property, clients can choose us to handle the repairs instead of opting for direct payment of compensation.
We work with a network of local partners involved in the Triglav Dom (Home) business ecosystem, handle the procedures and provide comprehensive engineering services.
A holistic view of employees' health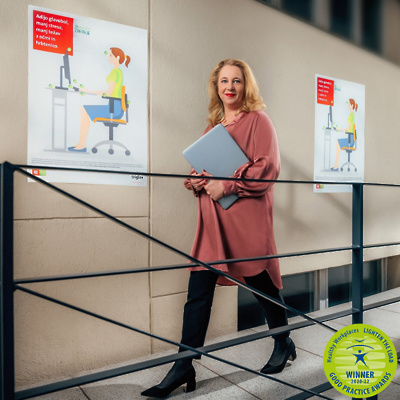 "We couldn't have wished for a better celebration of the ten-year anniversary," said Duša Lindtner, who leads a committed team of the Triglav.smo – Protecting Health programme, upon receiving a national and European award for good practice. With many activities and benefits for employees, the programme promotes a healthy lifestyle and a good work-life balance. In addition, authorised occupational medicine specialists participate in the programme with the aim of co-creating in-house health content and provide their services for the well-being of each individual.
The message in the photograph and on this website, which stresses the importance of the correct posture when using a computer, is just one aspect of the wide-ranging concern Zavarovalnica Triglav shows for the health of its employees.
Our concern for occupational safety and health: good national and European practices
Zavarovalnica Triglav received a national award from the Ministry of Labour, Family, Social Affairs and Equal Opportunities for the effective prevention and management of work-related musculoskeletal disorders and the comprehensive regulation of occupational health and safety.
The European Agency for Safety and Health at Work (EU-OSHA) awarded Zavarovalnica Triglav a good practice award for its strategic approach to the management of occupational safety and health and its contribution to the effective elimination of musculoskeletal disorders.
Opportunities and rules are the same for everyone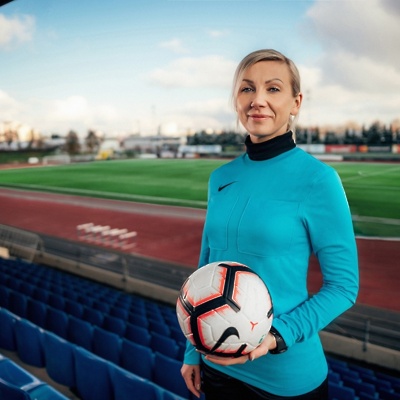 Aleksandra Česen, our colleague at Zavarovalnica Triglav, is also an international football referee. She has loved this most popular team sport since her youth. Propelled by her passion, effort and skill, she established herself in a traditionally male-dominated field. She played on her local team for many years, then in the national team, after which she became a junior team coach.
Aleksandra is proof to younger generations that they can achieve anything they set their mind to. As a colleague, she inspires us in spreading the culture of equality and diversity.
54.7% of all Triglav Group employees are female.
The name of the first women's football league in Slovenia was renamed to Triglav Zdravje Women's Football League in 2022.
In all employee categories, activities and countries where the Group operates, the basic salary of men and women is equal.
Applause to the invisible contributors to our joint success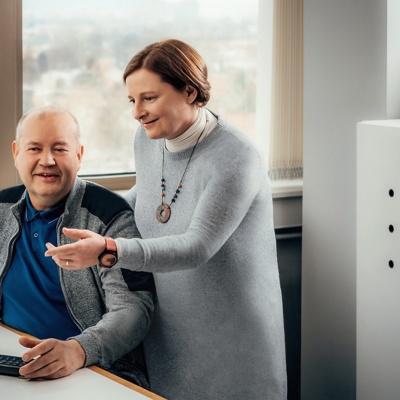 In the same responsive way as the sales staff listen to the needs of clients, Barbara Mušič and Miroslav Breznik always come to the aid of sales staff with development and support technological services. Barbara works in the Development and Technology Department in the field of Zavarovalnica Triglav's digital business and client experience. Miroslav always has all the answers to questions relating to IT. The sales staff gave them a big round of applause when they were announced as top salespersons, when they received special recognition for accessibility and efficient assistance.
In the Triglav Group, the development of technology and IT is at the fore of:
The agile and responsive operation of multifunctional teams,
Achieving a seamless user experience,
Building and maintaining business ecosystems that enable an outstanding user experience.