Firefighting has a 150-year-long history in Slovenia and remains indispensable despite all the changes.
Thanks to good intergenerational cooperation, firefighting is still highly respected and popular at the oldest volunteer fire brigade in Metlika, the cradle of Slovene firefighting. There are quite a few families from the Bela krajina region who have been involved in firefighting for over 100 years.
Grandfather and granddaughter, both firefighters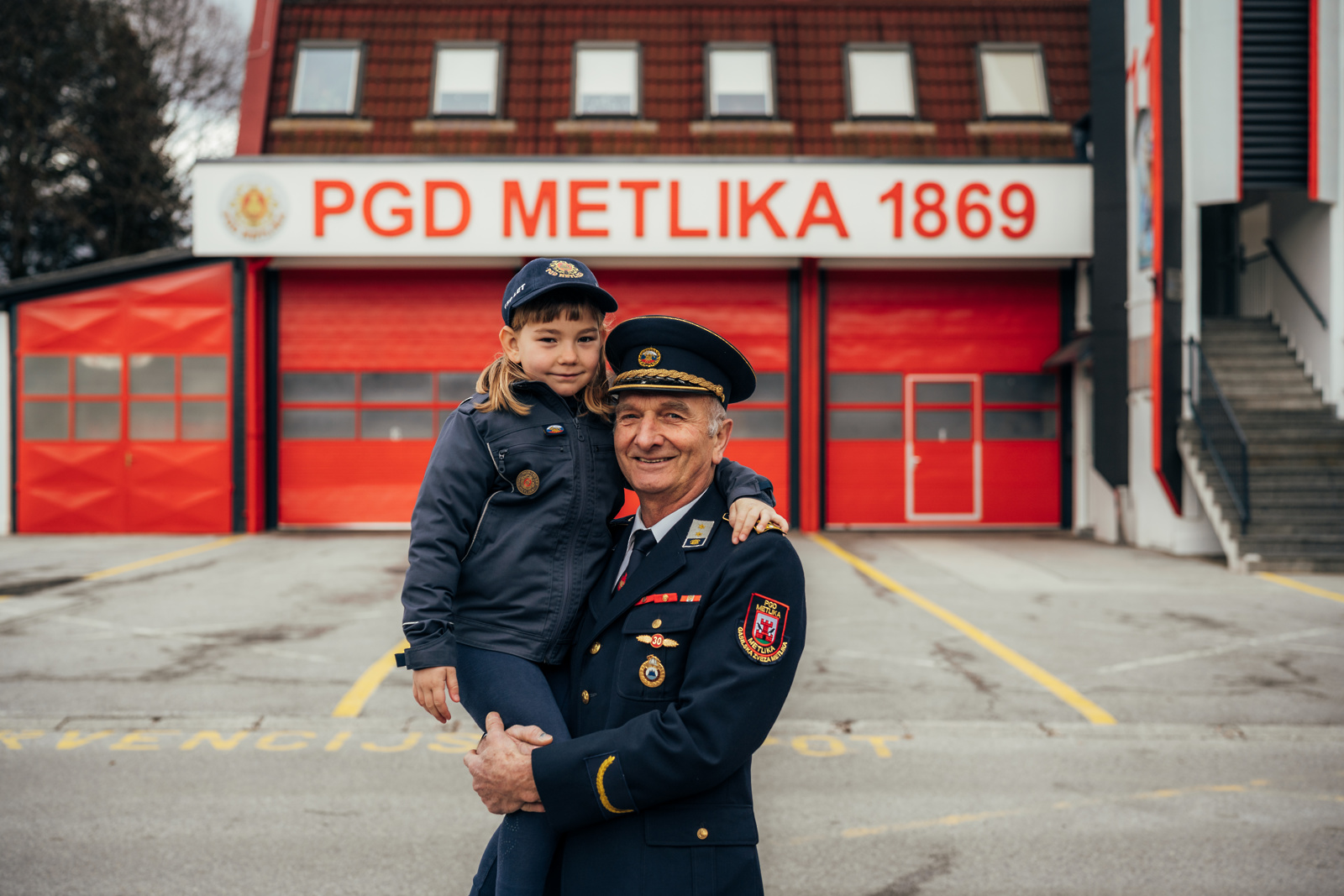 Milan Kremesec (71), the fourth generation, and Zarja Kremesec (6), already the sixth generation of Kremesec family firefighters.
Franc Kremesec was among the pioneers of organised firefighting in Slovenia (in 1869). His great-grandson, Milan Kremesec, belongs to the fourth generation of dedicated firefighters, including all his family members, son Jani, daughter-in-law Andreja and three grandchildren Vid, Katja and Zarja.
Technology is changing, but the heart of firefighting remains
In addition to helping other people, animals and nature, firefighters have always known how to be sociable and stand by one another when things got tough. Therefore, it is not surprising that the popularity of firefighters in Slovenia has been increasing over time, and even today it still stands firm.
Grandfather Milan Kremesec notes that there are fewer fires today; however, firefighters need to respond and assist more often in the event of natural disasters, traffic collisions and other accidents. When his job is over, he always looks forward to the moments he spends with his extended firefighter family.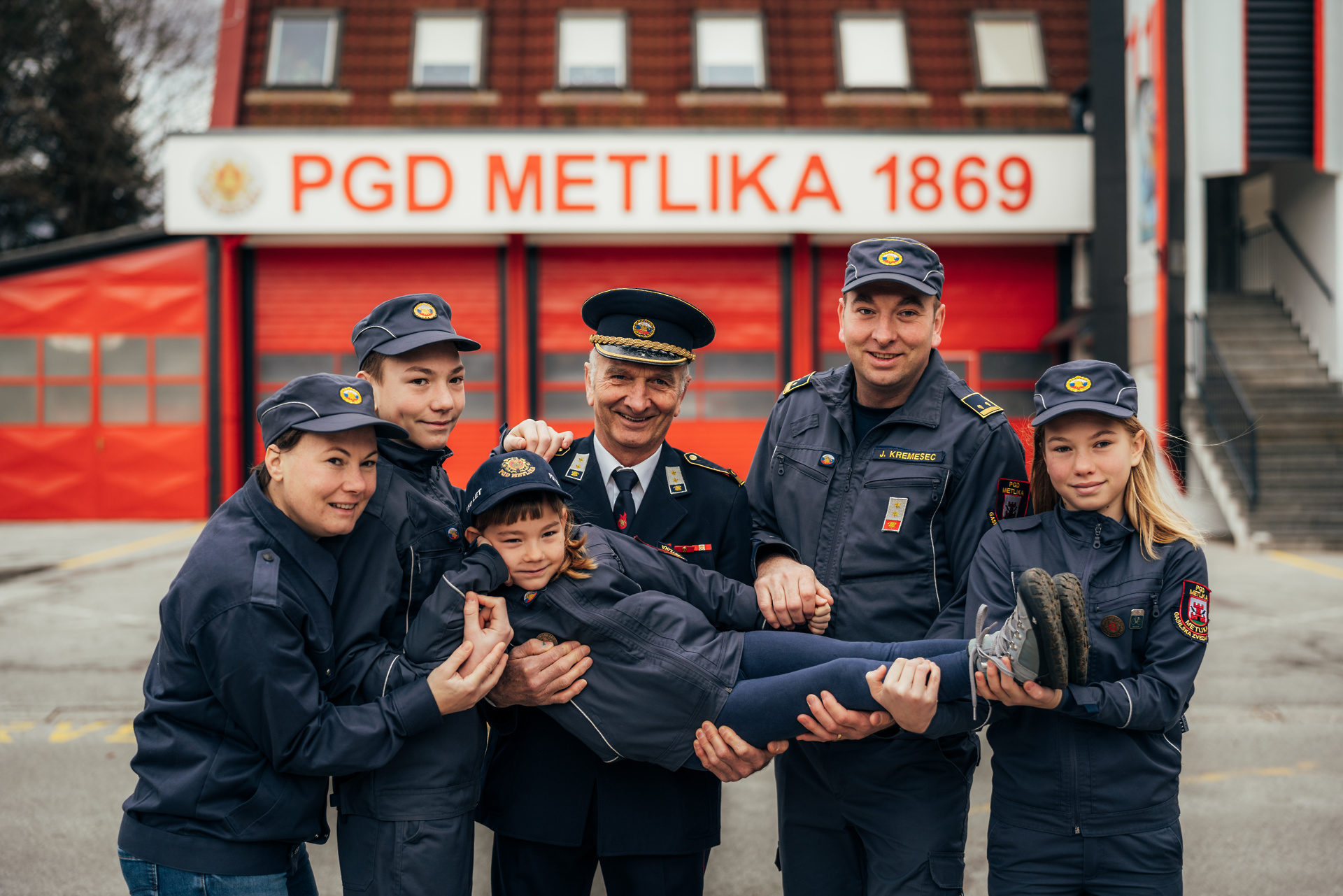 Milan Kremesec, his son Jani Kremesec, his wife Andreja, and Vid, Katja and the youngest in the family, Zarja.
8% of Slovenes are volunteer firefighters. Among their more than 162,000 members there are more than 40,000 operational firefighters.
The first volunteer fire brigade was founded in Metlika in 1869. Today, there are 120 firefighting associations and 1,341 fire brigades in Slovenia.
In October 2019, Slovene firefighters became world champions in the extremely challenging Firefighter Combat Challenge.
Celje will host the 2021 Firefighting Olympics.
He has attended over 1,200 incidents
Srečko Hrastar, Deputy Fire Chief of the Metlika Firefighting Association, is from a family that was strongly marked by firefighting. By growing up in an apartment in a fire station with his brother and parents who were also firefighters, he has witnessed great advancements in technology over the course of the past 40 years.
He plays an important role among operational firefighters, because he is in charge when attending an incident and drives a fire engine. Many times, it depends on him how quickly the firefighting equipment arrives to the scene of the fire or accident.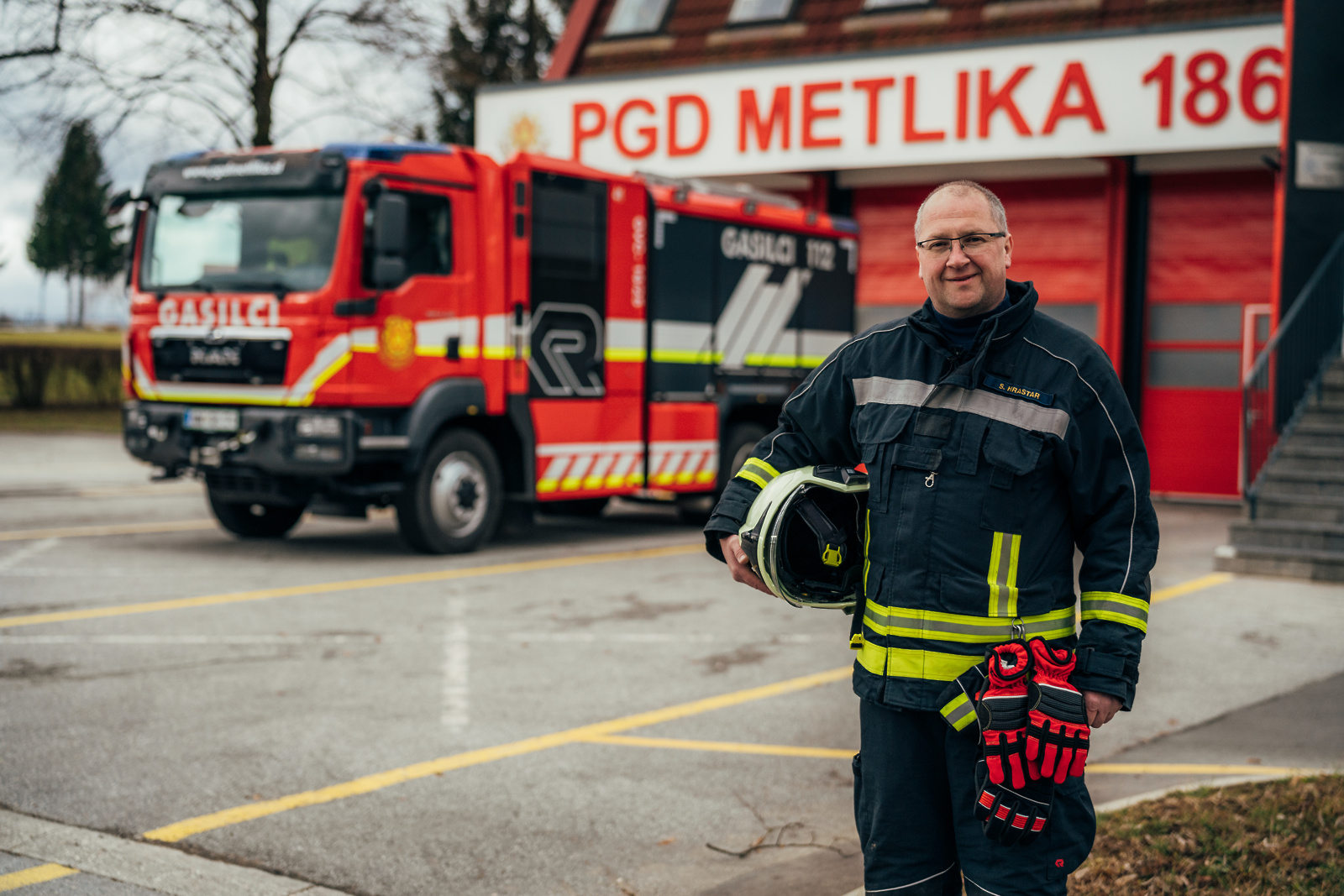 Srečko Hrastar, Deputy Fire Chief of the Metlika Firefighting Association, in front of the fire station where he grew up.
In the old days, by hand, today with a modern fire engine
For its anniversary, the Metlika Volunteer Fire Brigade acquired a very modern fire engine, which can accommodate a large team of operational firefighters. Their response time is even shorter, and performance has greatly improved.
Together with Srečko Hrastar, we took a tour of the Slovene Firefighting Museum of Dr Branko Božič in Metlika. At the manual water pump carriage from 1875, he showed us how the first firefighters fought fires.
"Today, we respond immediately and can leave the fire station in less than five minutes. In the past, a siren alerted firefighters that there was a fire and it took them much longer to respond, even as long as half an hour for all the firefighters to gather and leave the fire station. The manual water pump carriage was brought to the site by horses, filled with water by hand, and the jet was so weak that it couldn't put out a major fire," Srečko told about firefighting in the 19th century.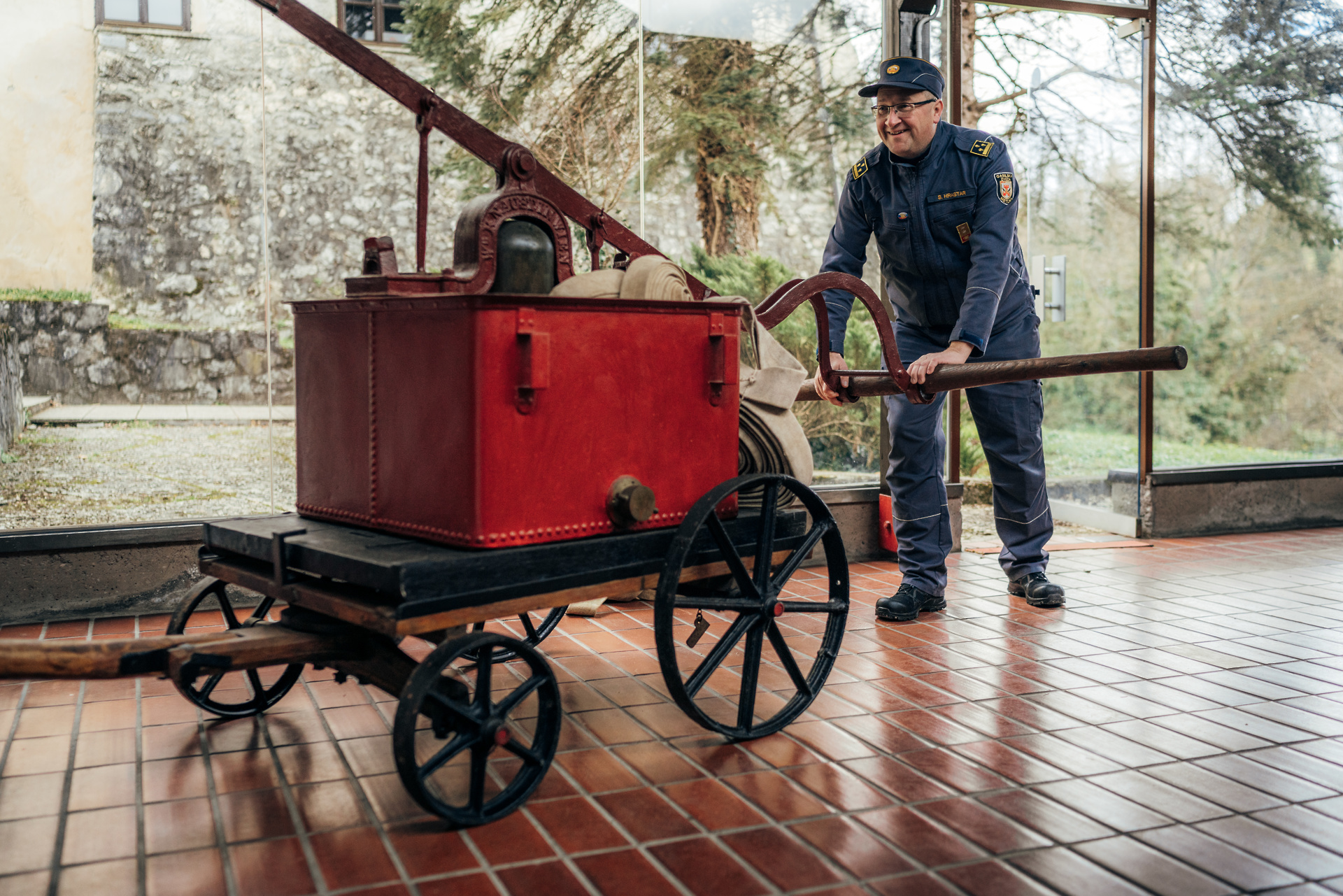 See the manual water pump carriage from 1875 at the Slovene Firefighting Museum in Metlika. Technology has advanced greatly over the past 150 years, changing the way fires are extinguished. Burning buildings are no longer extinguished from a distance, but from within, thanks to modern protective equipment.
Zavarovalnica Triglav has provided support to firefighting for many years. In 2019, it allocated EUR 460,000 for greater fire safety in Slovenia.