Zavarovalnica Triglav's share, which in December marked 10 years since its listing on the Ljubljana Stock Exchange Prime Market, achieved a total return of 27.3% and a dividend yield of 4.6% on an annual basis.
The General Meeting of Shareholders approved the proposal of the Management Board and the Supervisory Board for the payment of a dividend of EUR 1.70 gross per share, which represented 53% of consolidated net profit for 2020.
The Triglav Group was again assigned the high credit rating of "A" with a stable medium-term outlook.
There were no significant changes in the shareholder structure of Zavarovalnica Triglav.
Key figures relating to the Zavarovalnica Triglav share
Items

31 December 2021

31 December 2020

31 December 2019

Maximum closing price

37.20

36.00

35.40

Minimum closing price

29.80

23.20

29.50

Closing price

36.80

30.00

33.30

Book value per share (parent company)

29.70

28.33

25.53

Book value per share (consolidated data)

40.93

38.16

34.73

Net earnings per share (consolidated data)

4.97

3.24

3.69

Market capitalisation

836,653,446

682,054,440

757,080,428

Average daily trading volume (excluding block trades)

80,554

131,945

135,518

Payed dividend per share for the previous business year

to be defined

1.70

0.00

No. of shares

22,735,148

22,735,148

22,735,148

The percentage of floating stock

30.73%

30.73%

30.87%

Traded on

Ljubljana Stock Exchange - LJSE

ISIN code

SI0021111651

Ticker symbol

ZVTG

Bloomberg

ZVTG SV

Reuters

ZVTG.LJ

Credit rating (S&P Global Ratings, AM Best)

»A«, stable medium term outlook

»A«, stable medium term outlook

»A«, stable medium term outlook
The ten subscribers in Zavarovalnica Triglav's share register holding the largest number of shares as at 31 December 2021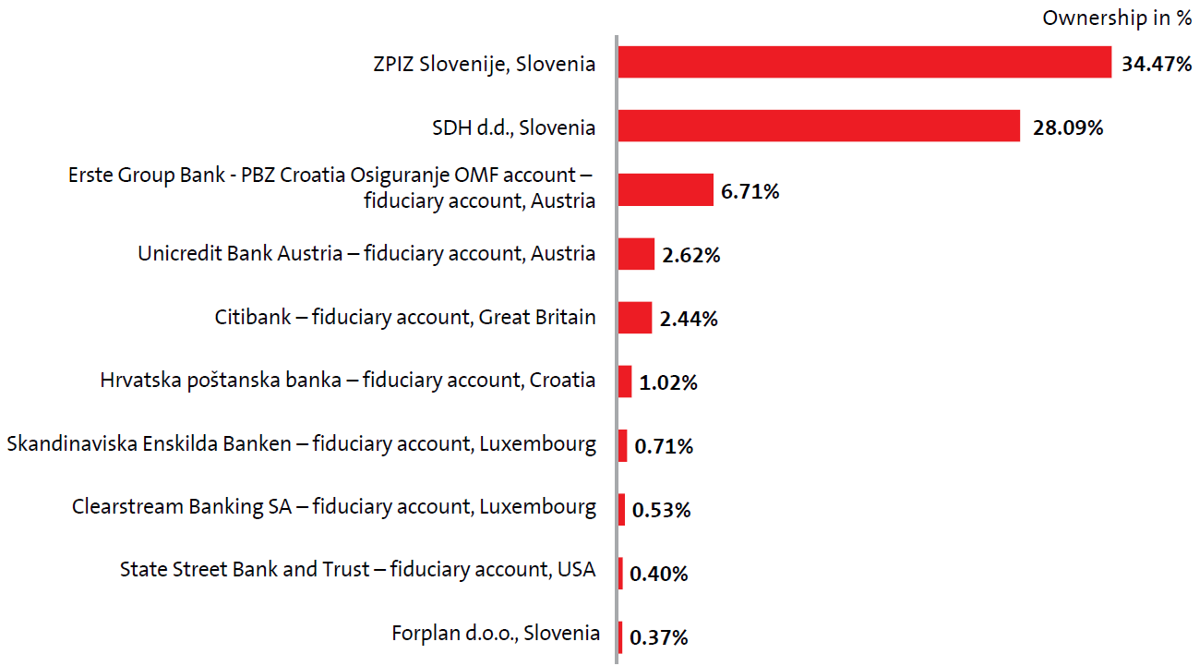 Source: Centralna klirinško depotna družba
Gross dividend per share by year (EUR) and its share of consolidated net profit for the preceding year in 2013–2021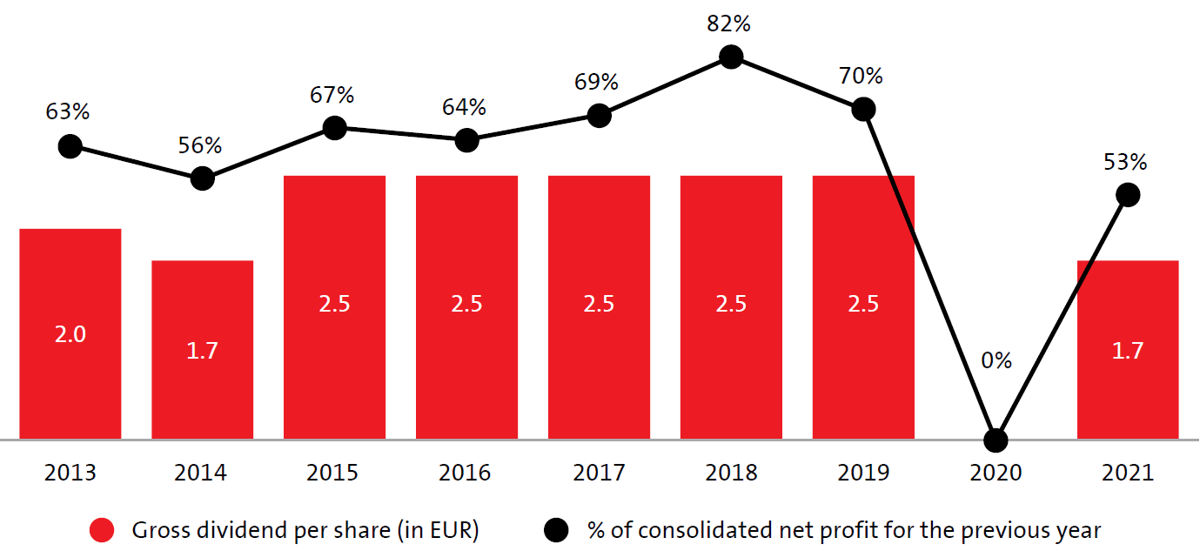 Information for shareholders:
Zavarovalnica Triglav, d.d., Ljubljana
Miklošičeva cesta 19, 1000 Ljubljana
Ms Helena Ulaga Kitek, Head of Investor Relations
Telephone: +386 1 47 47 331
Email: investor.relations@triglav.si