Safer over the railway tracks
In cooperation with Zavarovalnica Triglav and Slovene municipalities, his company equipped 36 dangerous road sections: the COPS@rail system was installed at twelve level crossings, where only St Andrew's Cross signs were erected. There are 400 such crossings in Slovenia, at which around 20 traffic accidents happen every year.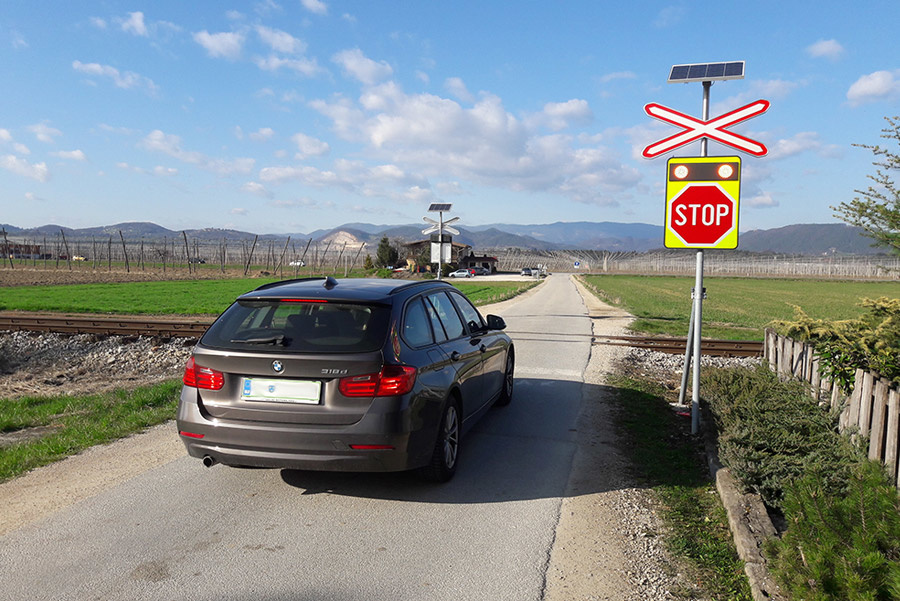 The Cops@rail system in Dobriška vas in the Municipality of Žalec.
Since April 2018, the Cops@rail system has been operating in Dobriška vas in the Municipality of Žalec. Unfortunately, in the past, very serious traffic accidents happened on the railway crossing there.
Cops@rail systems installed in 2018

Municipality

Location

Mokronog-Trebelno

Most-Hrastovica

Metlika

Dolnje Dobravce-Geršiči

Novo mesto

Groblje

Trebnje

Medvedje selo

Straža

Loke

Središče ob Dravi

Grabe

Podvelka

Janževski Vrh

Žalec

Dobriša vas

Šmartno ob Paki

Veliki Vrh

Domžale

Zgornje Jarše, Gregorčičeva

Kamnik

Tunjiška cesta

Sežana

Gorenje pri Divači

As much as 20% lower speed
After setting up the systems, the average speed in the vicinity of the railway crossings decreased by 17% on average and by as much as 20% immediately before the crossing. In addition to speed measurement, the system enables traffic counting, which serves as a basis for further actions in the vicinity of the crossing or as a starting point for additional regulation.
Zavarovalnica Triglav and COPS systems continue their cooperation in order to improve traffic safety. This year, additional 12 Cops@rail systems will be installed.
Cops@rail systems planned in 2019

Municipality

Location

Sevnica

Dolenji Boštanj

Metlika

Krivoglavice

Grosuplje

Šmarje-Sap

Mirna

Zabrdje

Črnomelj

Petrova vas

Trzin

Depala vas

Rogaška Slatina

Tekačevo

Radenci

Šratovci

Ruše

Bistrica ob Dravi and Ruše center

Žirovnica

Selo pri Žirovnici and Vrba

The COPS@rail warning system is powered by solar energy. It consists of a contrast backboard with a built-in STOP sign, flashing lights and sensors that detect oncoming vehicles. The lights alert the driver of the nearby unprotected railway crossing, which increase in intensity if the system does not detect a decrease in vehicle speed.
Did you know?
At a speed of 100 kilometres per hour, the braking distance of the train is approximately 1 kilometre.
In combination with the surroundings and weather conditions, the railway tracks can cause several hundreds of tons of iron to barely audibly move. When a train drives past a line of trees, trees act as a sound insulation. Crushed stone under the tracks reduces the sound level when the train slides on the tracks. Modern trains are particularly quiet. The railway tracks are designed to keep the friction low.