Stakeholders and Materiality Matrix
The Annual Report of the Triglav Group and Zavarovalnica Triglav refers to an individual business and calendar year. It is prepared by the relevant departments of Zavarovalnica Triglav in line with the International Financial Reporting Standards (IFRS), the Companies Act (ZGD-1J), the Insurance Act (ZZavar-1) and the international sustainability reporting guidelines GRI. By incorporating the economic, social and environmental impacts of the Company's operations into different sections, reporting aimed to produce an integrated report.
In 2016, the latest GRI guidelines – Global Standards (GS) were followed, taking into consideration specific guidelines for the financial sector. In order to apply the new standard, the interests of stakeholders and the scope of sustainability reporting were verified. This was repeated in 2017, in which reporting in accordance with GRI GS continued. The range of topics and disclosures is presented in the GRI Content Index at the end of the Annual Report.
In this Annual Report, the reporting was upgraded with an overview of the areas where the Company contributes to achieving the sustainable development goals adopted by the United Nations.

Key stakeholders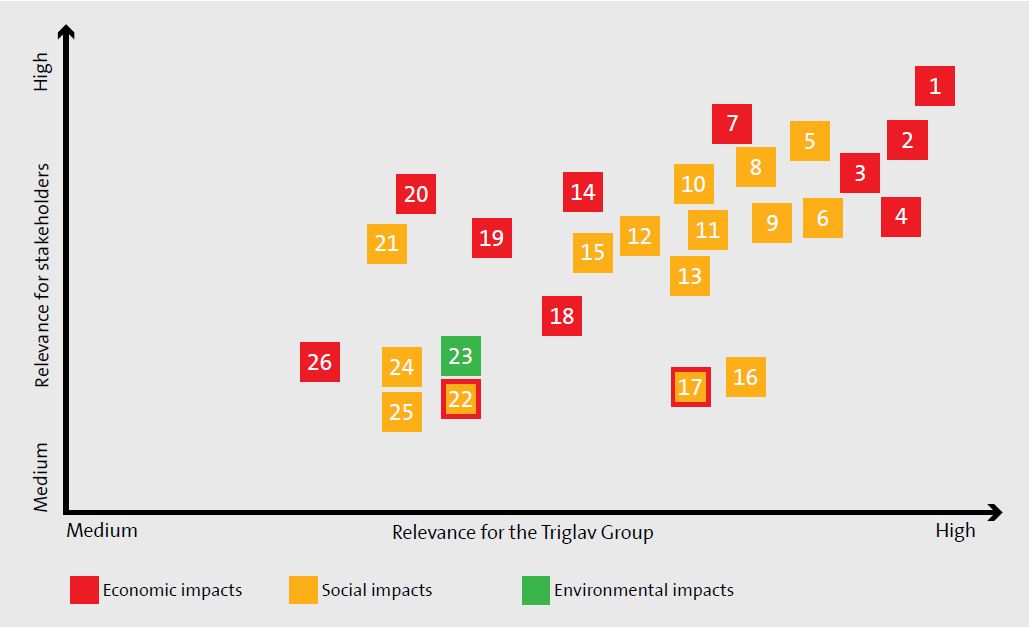 Capital adequacy – topic boundary: within and beyond the organisation (regulators)
Business strategy and plans – topic boundary: within and beyond the organisation (regulators, shareholders/investors)
Efficient risk management system – topic boundary: within and beyond the organisation (regulators)
Profitability – topic boundary: within and beyond the organisation (shareholders/investors)
Safety of policyholders and/or users of insurance services – topic boundary: within and beyond the organisation (regulators)
Reliability and trust in the Company – topic boundary: within and beyond the organisation (policyholders, shareholders/investors)
Fast payment of damages – topic boundary: within and beyond the organisation (policyholders)
In-depth information on the operations and financial position of the Group – topic boundary: within and beyond the organisation (shareholders/investors, the media)
Traffic and fire safety – topic boundary: beyond the organisation (policyholders, local communities)
Information about changes in the Company – topic boundary: within the organisation (employees)
Education and additional training – topic boundary: within the organisation (employees)
Relationships among employees – topic boundary: within the organisation (employees)
Access to insurance services for people with various disabilities – topic boundary: beyond the organisation (policyholders, local communities)
Long-term cooperation with suppliers – topic boundary: beyond the organisation (suppliers and creditors)
Friendly approach to clients – topic boundary: beyond the organisation (policyholders)
Responsible and sustainable operations – topic boundary: within and beyond the organisation (local communities, policyholders, shareholders/investors, the media)

Financial literacy – topic boundary: beyond the organisation (local communities, policyholders)
The remuneration system and performance-related pay – topic boundary: within the organisation (employees)

Reliability of payments – topic boundary: beyond the organisation (suppliers and creditors)
Favourable premium – topic boundary: within and beyond the organisation (policyholders, regulators)
Cooperation with local communities – topic boundary: beyond the organisation (local communities)
Innovative insurance products and services – topic boundary: beyond the organisation (policyholders)
Environmental protection – topic boundary: beyond the organisation (local communities)
Infrastructure investments – topic boundary: beyond the organisation (local communities)
Health prevention – topic boundary: beyond the organisation (local communities, policyholders)
Upgrading the existing cooperation – topic boundary: beyond the organisation (suppliers and creditors, policyholders)
Download section Sustainable Development in the Triglav Group