Zavarovalnica Triglav is the general sponsor of the Slovene Paralympic Committee
Our role-models, fully committed to their goals
Veselka Pevec, paralympic champion in shooting
To achieve our goals, we must take on many obstacles, but only true champions can beat them. Our determination and focus are powered by passion and the team spirit can help us bridge even the widest river. In the Triglav Group we believe in excellence, which is why we support numerous sporting and recreational projects and establish partnerships in the field of culture, education, nature conservation and health. We are honoured to present two Paralympic athletes and their coaches whose sporting spirit, humanity and the ability to overcome any obstacle have made them our role-models on the road to achieving our goals.
Veselka Pevec won a gold medal in air rifle shooting at the Paralympic Games in Rio, having set a world record. She even kept her training sessions a secret before her coach Polona Sladič, a two-time air rifle national champion coaching the entire national team. She reached her climax after four years of hard work, but has no intention of letting up after this achievement.
"Preparation is the road to outstanding results."
Veselka and Polona are convinced that a solution and a path to good results can always be found. At the age of 18, after having fought for her life for several months, Veselka became a tetraplegic. When she recovered and decided to venture into sport, she first took up bowling, then changed to shooting. Polona coaches the entire Slovene national Paralympic shooting team that also won a silver medal in Rio.
The victory has given Veselka additional momentum which she is happy to share with youngsters: "After having won Olympic gold, I am more relax and enjoy training even more, even though some people might expect me to quit after having reached this climax."
In addition to sporting knowledge, what brings Veselka Pevec and coach Polona Sladič together is an abundance of good will. Thanks to this good will, Veselka managed to beat the entire competition in the joint male and female category. But until the very moment when the medal was placed around her neck, she had not realized it was gold.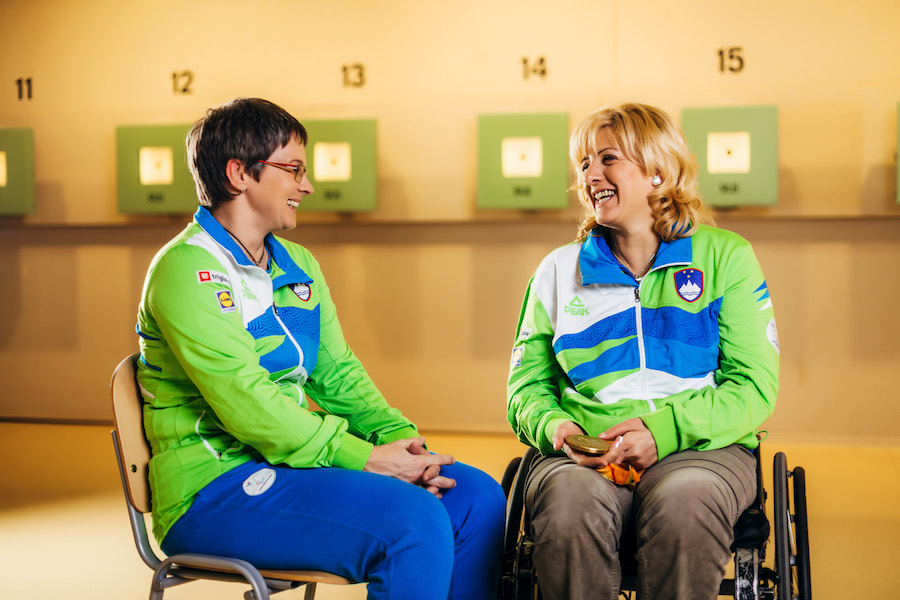 Coach Polona Sladič and Veselka Pevec
Polona Sladič: "I immediately knew Veselka had great potential. Particularly due to her iron will. The will is the determination to achieve something and regular training is the first step."
Veselka Pevec: "I want to be independent. When I took up shooting a few years ago, I wanted to be able to travel despite being in a wheelchair and I was very driven to catch up with male colleagues. Sometimes I was even forced to put in an additional training session in secret. The sport then completely overwhelmed me. When you are focused on your goals, you just want to be better and better."
Polona Sladič: "Shooting is a synonym for patience and concentration. When you first take it up, your results are 70 percent technique and 30 percent mental fitness. With top athletes, the proportions are reversed and the "psychology" accounts for 70 percent. Veselka has incredible mental abilities. In Rio, she set new Paralympic records in the both the qualifying and the competition, achieving an incredible average precision of 10.5. She persevered until the end and won gold with an excellent final shot."
Veselka Pevec: "The competition takes place in a large and not very quiet hall. The referee assigns your spot and you then have eight shots. You have 50 seconds to complete each shot and reach incredible precision. You have to banish all other thoughts and be focused, regardless of the circumstances. Before the competition at the Paralympic Games in Rio, my daughter had fallen seriously ill, so I was less concerned about the competition, but I was able to reach the necessary concentration during my performance. It may be hard to believe, but sometimes even difficulties can contribute to outstanding results."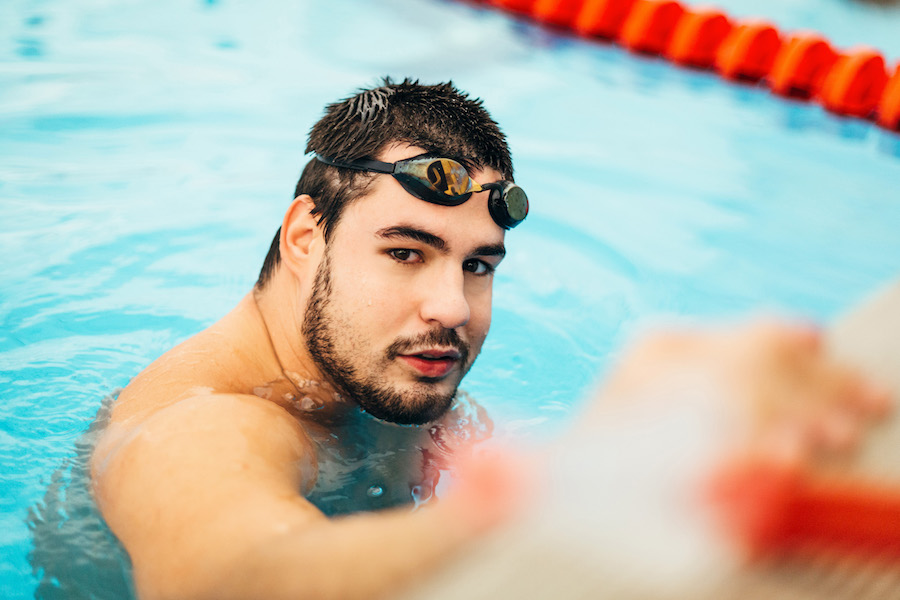 Darko Đurić, para-swimming champion
"The more demanding the competition, the more motivated I am, the more I enjoy swimming and the happier it makes me."
In addition to other titles, swimmer Darko Đurić became two-time world champion and vice champion in Montreal 2013 and is the holder of two world records over 50 m butterfly in his category set at the Paralympic Games in London. In 2016, he won silver and bronze at the IPC Swimming European Championships in Portugal and two fourth places at the Paralympic Games in Rio.
Darko is both incredibly motivated and warm-hearted, so he is a great favourite with the public and very popular among youngsters. He is an incredible fighter and motivator, whose public appearances inspire others, including businessmen. Due to a genetic fault, he was born without a left arm and both feet. He lives alone, drives a car and has a job. "You need to fight, regardless of the lemons life serves you that you are forced to accept," is how he puts it.
Swimmer Darko Đurić and coach Alen Kramar are the core of a team where very few words are required to reach an understanding. They train every day, up to eleven times a week.
Alen Kramar: "Darko is a professional, completely committed to his goal. Without this commitment there would be no results. The more demanding the competition, the more motivated he is. But being ready for the great victories takes many small trials. He is talented but everything he has is in his arm and head. Now that Rio is behind him, he already has a new goal, the world championship in Mexico."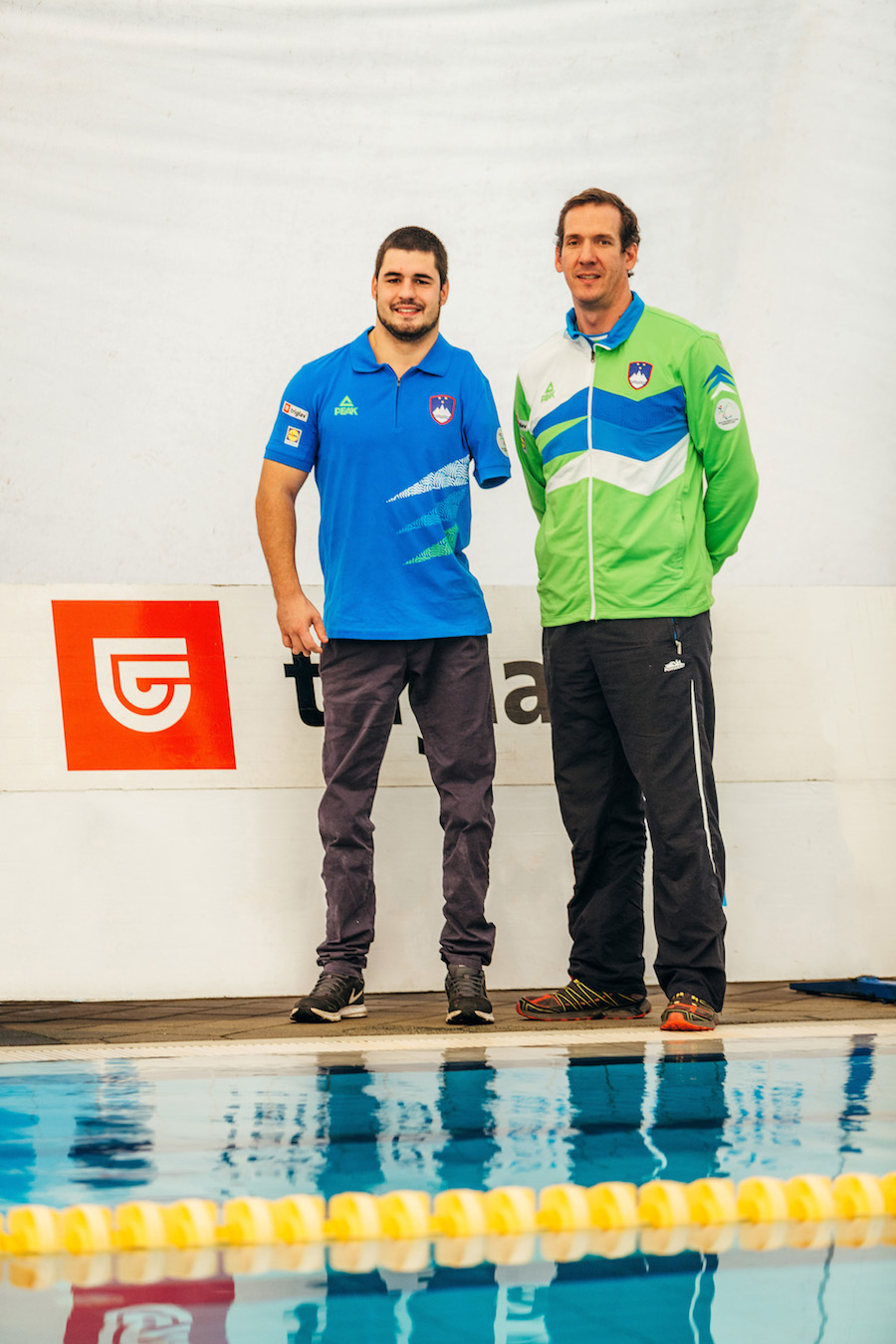 Darko Đurić and his coach Alen Kramar
Darko Đurić: "In competition, I have always turned into a machine. Even my first coach was surprised when I broke records like they were nothing. When the competition starts, my head is a complete blank. It is exhausting, I am tense the entire month before the race, but once I am there, I relax and swim the best I can. I am completely focused on the few metres I need to swim. I monitor my competitors, but I sometimes do not even know how I swam those metres myself. The more demanding the competition, the more motivated I am, the more I enjoy swimming and the happier it makes me."
Alen Kramar: "If there is something Darko does not like, I can see it in his face immediately. One or the other takes a step back and the problem is solved. We deal with everything with mutual respect."
Darko Đurić: "I trust my coach. I know that I am capable of the best results, that hard work can get me to new personal bests. I want to be among the top five in the world, that is my goal and since 2011, I have never failed to reach the final. I expect a lot from myself and from others. That can sometimes heat things up. At the Paralympic Games in Rio, I missed a medal in 100 m butterfly by half a stoke, in 50 m freestyle by 5 cm, in 200 m backstroke by 20 cm and in 100 m backstroke by 15 cm. But what is crucial is that my goals and path to reaching them are set realistically. If I want to be on the podium, I need to listen to my coach. I do not need to do so to be in the top five, but my ambitions are set higher than that."