Performance of the Triglav Group and Zavarovalnica Triglav
In 2016, the Triglav Group generated a net profit of EUR 82.3 million and achieved an 11.4% return on equity.
The premium growth was recorded in all insurance markets.
The Triglav Group maintained its leading market position in Slovenia, Montenegro and Macedonia. Furthermore, the Group improved its position in Bosnia and Herzegovina and in Serbia and maintained its market position in Croatia.
Exceptionally low interest rates no longer enable high returns on investment.
Financial assets of the Triglav Group rose by 4%.
Consolidated gross written premium from insurance and co-insurance contracts in EUR million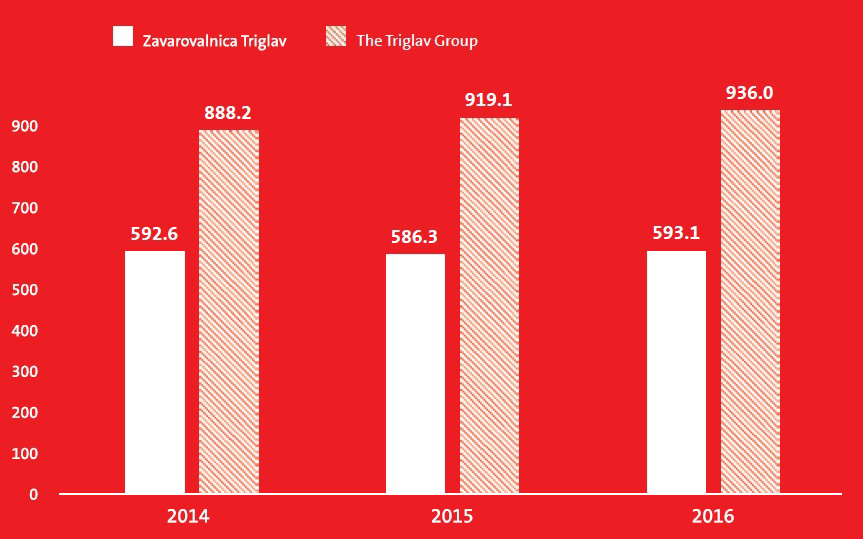 Net profit in EUR million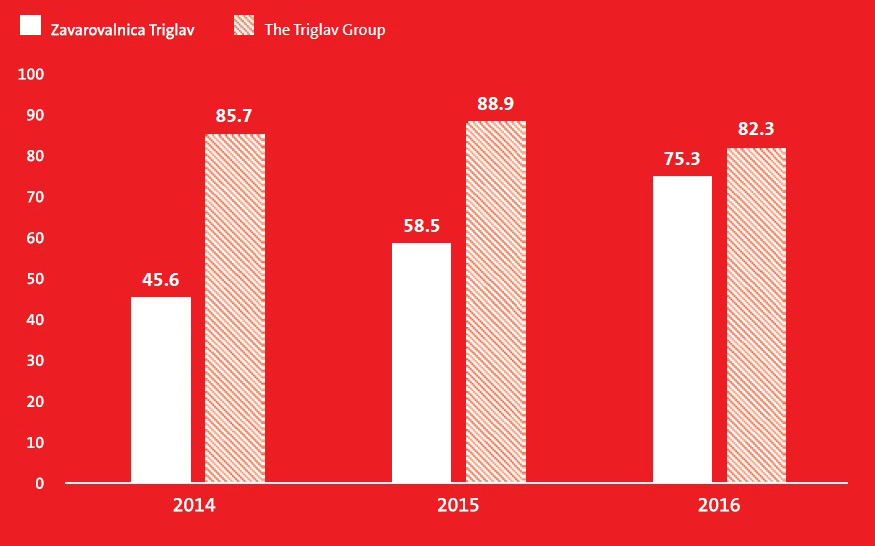 The combined ratios in non-life insurance and health insurance in the Triglav Group and individual companies in 2016 compared to 2015
| | | | |
| --- | --- | --- | --- |
| Insurance company | 2016 | 2015 | Change |
| Zavarovalnica Triglav | 87.9% | 86.2% | 1.7 p.p. |
| Triglav, Zdravstvena zavarovalnica | 99.5% | 98.9% | 0.7 p.p. |
| Pozavarovalnica Triglav Re | 96.7% | 93.6% | 3.1 p.p. |
| Triglav Osiguranje, Zagreb | 107.4% | 119.4% | −12.0 p.p. |
| Triglav Osiguranje, Sarajevo | 99.8% | 99.8% | 0.0 p.p. |
| Lovćen Osiguranje, Podgorica | 92.3% | 111.8% | −19.5 p.p. |
| Triglav Osiguranje, Belgrade | 102.2% | 107.3% | −5.1 p.p. |
| Triglav Osiguranje, Banja Luka | 100.7% | 102.3% | −1.6 p.p. |
| Triglav Osiguruvanje, Skopje | 99.1% | 101.7% | −2.6 p.p. |
| The Triglav Group | 92.9% | 92.8% | 0.1 p.p. |
Structure of financial investments of the Triglav Group as at 31 December 2016 and 31 December 2015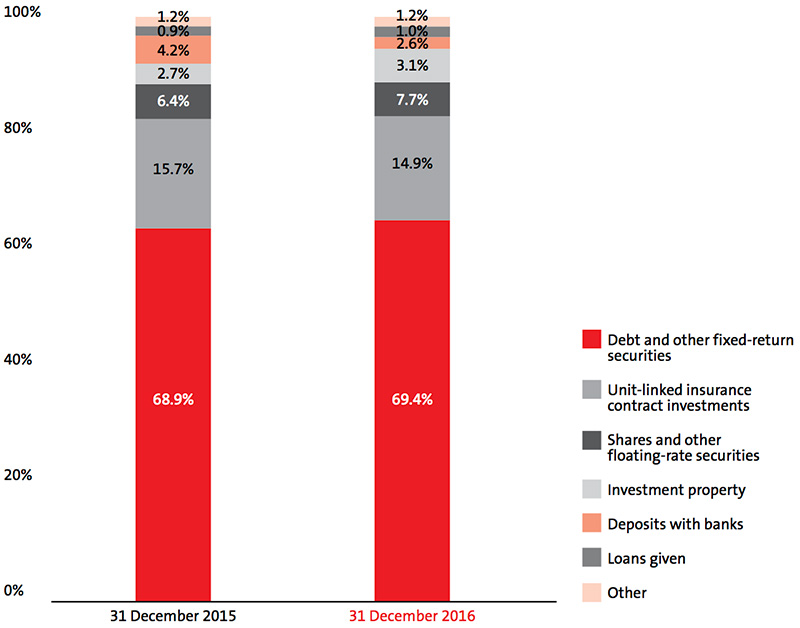 Download section Performance of the Triglav Group and Zavarovalnica Triglav